What is the purpose of bolt tightening sequence in flanged joints?
Posted in
Hydraulics
|

Email This Post
|

Bolted flange joint is widely used in watermains. In essence, a bolt axial tension is applied by the torque control method. The preload values are recommended by gasket suppliers to control gasket crushing and to achieve proper gasket seating stress. A proper bolt tightening sequence in flanged joints is essential to control stress variation in flange joint components. Otherwise, leakage occurs at flanged pipe joints during operating conditions.

Advertisements
Most joint surface of joints is not completely flat. The sequence of bolt tightening exerts a huge effect on the resulting preloads. Since joints containing gaskets have a comparatively low compressive stiffness, bolt preloads in such joints are particularly sensitive to the tightening sequence. Owing to the compression of joint surfaces, tightening one bolt close to another pre-loaded bolt will affect the preload generated by the firstly-tightened bolt. A proper bolt tightening sequence ensures that an even preload distribution is achieved in the flanged joint.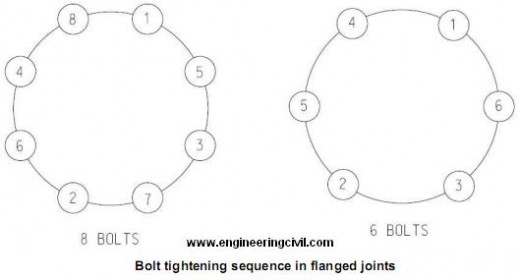 This question is taken from book named – A Self Learning Manual – Mastering Different Fields of Civil Engineering Works (VC-Q-A-Method) by Vincent T. H. CHU.