Riverfront Development Of Karha River Baramati City
Posted in
Hydraulics
,
Project Reports
,
Research Papers
|

Email This Post
|
BY
S.P.Jadhav1, S.L.Ghorpade2, K.H.Bankar3, A.S.Adkar4, S.S.Kharade5
1Prof.Bansode S.S, 2Prof.Sawant P.A.
Department of Civil Engineering
S.B.Patil College of Engineering, Vangali, Indapur
Abstract-
The Rivers form a city's lifeline and no other city in the country can boast of having three Rivers running through it. Karha riverfront in Baramati City is a multifunctional riverfront with majority of premises being used as Residential, Irrigation,Indusrial Recreational purposes.
The water quality of the Karha River is very low due to a large amount of untreated sewage being let into the river. Other major problem pertaining to Karha river is flooding of the river.
The project work aims to carrying out suitable river-training works and measures to reduce the river pollution, restore and maintain the river ecosystem as well as riparian ecosystem.
The aim of this project would be transform Baramati as a unique cultural platform with recreational and entertainment facilities serving the city.
Keywords– Riverfront,Pollution,Development,Ecological preservation,Public Space
INTRODUCTION
In general, a waterfront is the zone of interaction between urban development and the water. A waterfront area is considered as a unique and irreplaceable resource where it is the interface between land, water, air, sun and productive plants. Moreover, the waterfront is characterized as a place integrating land with water and having a natural attraction to people. In fact, the seashore and riverfront are the most attractive water features for human settlement and, in most countries; the land in front of water is developed earlier than the inland areas.
Advertisements
Waterfront development refers to any development in front of water and; a river, lake, ocean, bay, canal etc. In the development area, considered that a waterfront development may not necessarily need to be directly fronting water but may only need to look attached to the water. They believe that commanding a view of water can still be considered as a property of waterfront.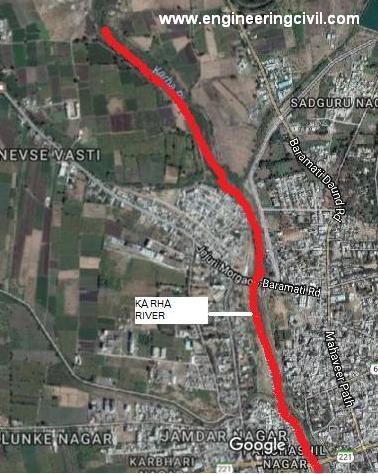 Definition of riverfront development "Any developed area that is densely populated and is being used for, or has been used for, urban residential, recreational, commercial, shipping, or industrial purposes"
The first waterfront development projects were started in North American cities, in particular Baltimore and Boston, in the 1960s. Nowadays, waterfront development is a global trend and thousands of schemes are being carried out in large metropolises, medium-sized cities and even small towns all over the world.
Objectives:
The following are the objectives considered for Riverfront development project:
• Design of STP, Parks, Ghats and River guide bunds,
• Design Recreation with smart city concept.
• For maintaining ecology of river Karha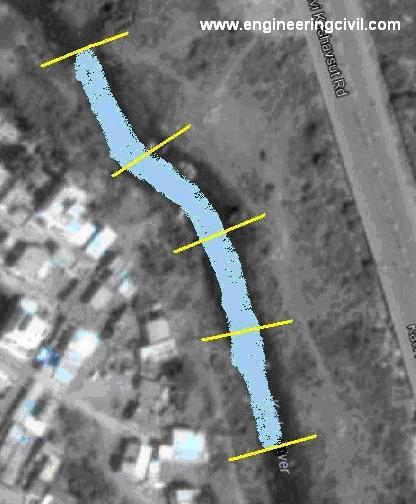 OBJECTIVES AND GOALS
i. To plan a development that would oriented toward creating an urban form that is wholly consistent with the physiographic features of the area
ii. The urban form integrated with natural landscape would create an enriching experience by responding to the context of water and existing diversity of activities there by, create a usually dominant landmark.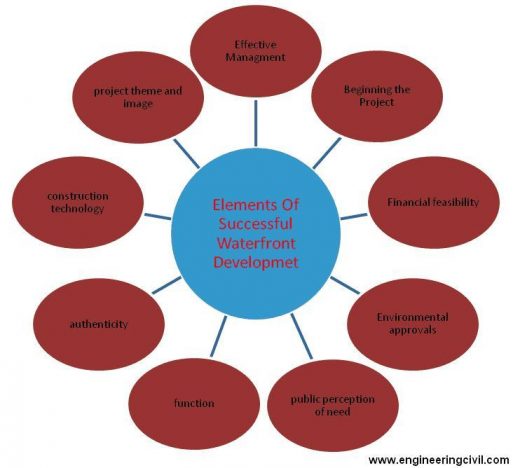 Figure – Elements of successful waterfront development
ISSUE RELATED TO KARHA RIVERFRONT DEVELOPMENT
The key issues related to the river are discussed below as:
There are mainly 7 primary drains in the city, out of which two drains are located on one side of the ghat and the other 5 are located on other sides of the ghat. These drains discharge the entire storm water of the city into the river. The geographic location makes it a constant threat of flooding from the rising water levels in the river karha. The domestic wastewater, along with rainwater is flowed in the karha River. Presently there is no planned water front development along karha. The waste generated in areas in these days is also a major concern, as there is no proper management system for this. The water pollution is major concern present day in Baramati.
Advertisements
METHODOLOGY
Aim:
"The aim of this project would be transforming Karha Riverfront as a unique cultural platform with recreational and entertainment facilities serving the city, its people and tourists with new dimension, meaning and scale of development. The riverfront development shall be envisaged as a city's identity on waterfront."
The project would look into the ways to rejuvenate the urban life and the space through improved quality of life, facilitating recreational and cultural activities, organizing informal businesses and designing better public spaces with creative amenities. The goal is to plan a development that would be oriented towards creating an urban form that is wholly consistent with the physiographic feature of the area. The urban form integrated with the natural landscape would create an enriching experience by responding to the context of water and existing diversity of activities thereby, create a visually dominant landmark.
1. Reconnaissance survey:
a) Preliminary Investigations.
b) Finalization of Study Area.
2. Analysis of the Study Area
3. Collection of existing Drawings and River Maps from various sources.
4. Division of the river stretch into sub-stretches[Sections] according to area characteristics.
5. Proposing various amenities according to the utility of the different sub-stretches.
6. Division of the riverfront into different zones.
INVESTIGATIONS
History of Baramati
• Baramati are mostly depend on agriculture as the main source of income.
• The land in the region is very well irrigated because of Nira left canal irrigation from Veer dam.
• The Karha and Nira river also provide direct irrigation water to farms. Drinking water is also sourced from this canal.
The Karha river
• Karha is a river flowing through Indian state of Maharashtra.
• Its basin lies in part of Pune.
• Karha is a tributary of the Nira river.
• Origin of river Karha is near Garade village in saswad tehsil and get unite in the main stream of the Nira river near the village Songaon in Baramati Tehsil.
Baramati and Karha
• Karha riverfront is a multifunctional with majority of premises being used as;
1. Residential,
2. Commercial,
3. Industrial,
4. Recreational purposes,
5. Place for washing and drying clothes.
6. Irrigation Facilities.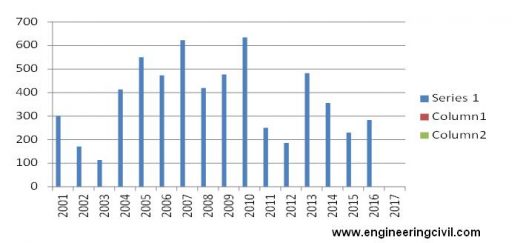 Fig.:- Year wise Total Rainfall
CONCLUSION
Based on the study the following conclusions are drawn:
i) Karha River is natural resource of Baramati city. Through a planning proposal offers a peaceful natural contrast to the urban environment.
ii) Throughout riverfront provides urban waterfront characteristics to the baramati city. Introduce the good open space within the center of the city. Hence pollution would be reduced and the other remuneration by greenery would be boosted. Also the riverside pathway type st
iii) Turn the river into a major asset to enhancement of urban sustainable environment and quality of life. Through a planning proposal make a Baramati as a vibrant, beautiful and River glorified city.
iv) Transform the river into a major asset for city by creating an attractive location for cultural and commercial activities on the river bank and to improve the quality of the environment
Advertisements
REFERENCES
1. Md.Kamrul Islam1, Sudipta Chowdhury2."Karnophuli River Front Development, Chittagong, Bangladesh" e-ISSN: 2320-0847 p-ISSN : 2320-0936 Volume-03, Issue-11, pp-46-54.
2. Azlina Binti Md. Yassin1 ,Prof. Chris Eves2 ,John McDonagh3. "An Evolution of Waterfront Development in Malaysia" 16Th Pacific Rim Real Estate Society Conference, Wellington 24-27 January 2010.
3. Rana P. B. Singh 2004 g "The Ganga Riverfront in Varanasi, a Heritage Zone in Contestation". Jodhpur Colony, Varanasi, UP 221005.
4. Azlina Binti Md. Yassin ,Prof. Sandy Bond, Assc. Prof. John McDonagh "The Effectiveness Of The Riverfront Development Guidelines In Malaysia". 17th Pacific RimReal Estate Society Conference , Gold Coast, Australia.
5. Azlina Binti Md. Yassin , Sandy bond, John McDongh, "Principles For Sustainable Riverfront Development For Malaysia"Journal of Techno- Social ISSN 22 29-8940 1 Vol. 4 No. 1 April 2-0 12.
6. Richard Helmer and Ivanildo Hespanhol "Water Pollution Control – A Guide to the Use of Water Quality Management" © 1997 WHO/UNEP ISBN 0 419 22910 8.
We at engineeringcivil.com are thankful to Er. Sagar Ghorpade for submitting this paper to us.