3rd Transit Oriented Development World Summit 2019
Posted in
Civil Engineering Events
|

Email This Post
|

The Leading Transit Oriented Development World Summit!
While the development of cities has been historically linked to investing in urban regions, the concept of Transit Oriented Development has emerged as a response to traffic congestion and the prevention of urban sprawl. Transit Oriented Development has proven to help integrate modes of transport to save time, dependence on cars and improves physical health. It has also been seen a major solution to the serious growing problems of climate change and global energy security by creating dense, walkable communities that greatly reduce the need for driving and energy consumption, whilst driving urban and economic development.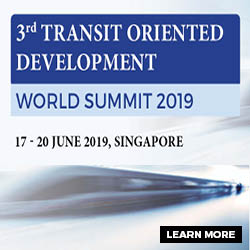 Equip Global's3rd Transit Oriented Development World Summit 2019taking place in Singapore from 17-20 June 2019returns in June and will gather various Ministries of Transportation, National Development, and Infrastructure, Housing Authorities, Urban Development Authorities, Rail & Transport Operators, Investment firms and City Planners across Asia and globally to discuss their experience and knowledge on successful masterplans for today and tomorrow's Transit Oriented Development Projects around the globe.
Advertisements
For more information, please visit our website or email us at enquiry@equip-global.com now!
Details
Start: 17 June 2019
End: 20 June 2019
Website:http://www.equip-global.com/transit-oriented-development-world-summit-2019
Organizer: Equip Global Pte Ltd