Impact Of Vardah Cyclone In Air Quality in Chennai
Posted in
Project Reports
|

Email This Post
|

By
Joel, Deepak & Raj
UG Student
Department of civil Engineering
Loyola Institute of Technology, Palanchoor
Chennai, India.
and
Mr. Arunprasanth
Assistant Professor
Department of civil Engineering
Loyola Institute of Technology, Palanchoor
Chennai, India.
Abstract
This project deals with the statistical investigation of air quality and climatic change in chennai. The analysis ofambient air quality in chennai city employing Air Quality Index (AQI). An Air Quality Index has been proposed for the city of chennai for pubic information and data interpretation. The average concentration for four major parameters are taken into account (SO2,No,Co,PM2.5) for the year 2016-2017(present day) for specified location in chennai city is taken . The place is Alandur which is an industrialist area. The AQI is calculated using AQI procedure. It has been observed that the air quality before varadha cyclone is in satisfactory zone, whereas now, it has reached moderately polluted condition. The climatic change also varies from the past year to the present.
Keywords: Air Pollution, Air Quality Index, Particulate Matter CO& PM2.5, SO2.
I. INTRODUCTION
In India the ambient atmospheric conditions have progressively deteriorated due to urbanization, industrial development, lack of awareness, poor maintenance of motor vehicles and poor road conditions .Transport vehicles and industrial emissions are the major sources of pollutants in the chennai atmosphere. So, there is need to evaluate the air quality improvement in Chennai.). Among the various air pollutants from various sources particulate matter, sulphur dioxide and oxides of nitrogen are having a significant role in effecting the air quality and thereby causing harm to human health. Hence these parameters were considered to determine the air quality of Chennai. In this paper an attempt was made to study the air quality status of chennai, using AQI (Air Quality Index).

Advertisements
AQI is a tool, introduced by Environmental Protection agency (EPA) in USA to measure the levels of pollution due to major air pollutants. An AQI is defined as an overall scheme that transforms weighted values of individual air pollution related parameters into a single number or set of numbers (Mukesh Sharma, 2003). In the present study the AQI was calculated using IND-AQI specified by CPCB. The index has been developed based on the dose-response relationship of various pollutants. AQI concept transforms weighted values of individual air pollutants into a single number or set of numbers which may be widely used for air quality communication and decision making. This IND-AQI has 6 categories.
Table-1 Air Quality Index
| | |
| --- | --- |
| category | Range |
| Good | 0 – 50 |
| Satisfactory | 51 – 100 |
| Moderately Polluted | 101 – 200 |
| Poor | 201 – 300 |
| Very poor | 301 – 400 |
| Severe | 401 – 500 |
II. MATERIALS AND METHODOLOGY
In this project we used materials of air quality data from the Tamil Nadu pollution control board TNPCB.And worked out the comparison method of comparing annual air quality report in certain pollutant and Charted in pie graph for 2016 and Jan, Feb month of 2017 in the Chennai city.

Advertisements
III. RESULTS AND DISCUSSIONS
The daily average concentrations were calculated. The corresponding graphs of concentration of each pollutant with time were plotted .The annually AQI values were also calculated and also plotted in graphs The study show that the minimum and maximum concentration of PM2.5,NO,SO2 in the year 2016 and in two months of 2017 and at the last we come to the conclusion and result is before the cyclone hit the Chennai city the air quality level range is in the satisfactory zone but the impact of vardah has changed its zone level to the moderate zone and thus in future upcoming months the quality of air will tremendously become bad.
NITROGEN OXIDE COMPARISON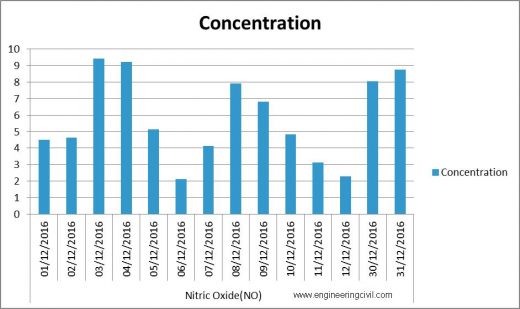 PARTICULATE MATER 2.5 COMPARISON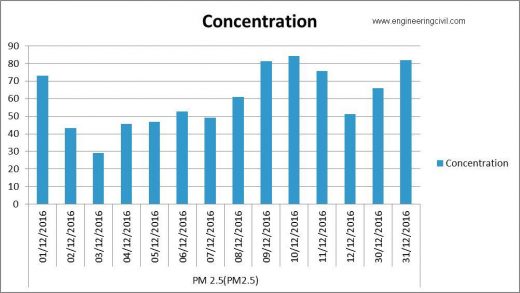 SULPHUR DIOXIDE COMPARISON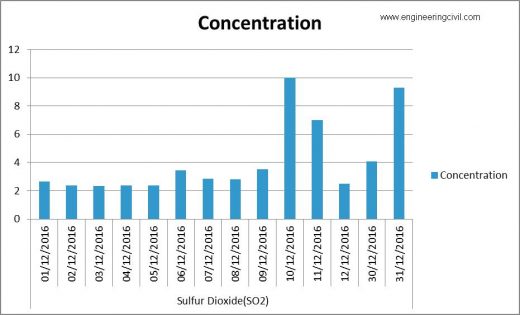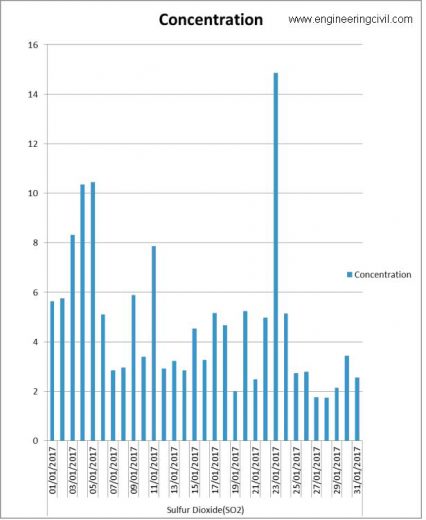 REFERENCE:
[1] Anand Kumar , Dr. Ashish Garg and Prof. Upender Pandel, 2011, A Study of Ambient Air Quality Status in Jaipur City (Rajasthan, India), Using Air Quality Index, Nature and Science, 9(6), 38 -43.
[2] AnkitaShukla, Rajeev Kumar Mishra, Dr. M. Parida,2010, Estimation of CompositeAir Quality Index for Lucknow, Institute of Town Planners, India Journal 7 – 4, 45 – 56.
[3] Beig.G.,Sachin D. Ghude and AparnaDeshpande, 2010, Scientific evaluation of air quality standards and defining Air Quality Index for India, Indian Institute of Tropical Meteorology, Pune, India,Ministry of Earth Sciences, Govt. of India.(http://www.tropmet.res.in/~lip/Publication/RR-pdf/RR-127.pdf)
[4] BiswanathBishoi, AmitPrakash, V.K. Jain, 2009, A Comparative Study of Air Quality Index Based on Factor Analysis and US-EPA Methods for an Urban Environment, Aerosol and Air Quality Research, Vol. 9, No. 1, pp. 1-17.
[5] CPCB,National Air Quality Index, 2014, (http://cpcb.nic.in/AQI-FINAL-BOOK.pdf)
[6] GPCB, Annual Report 2013-14,(http://gpcb.gov.in/pdf/AR_2013_14_ENG.PDF)
[7] JagdishMeena, P., 2012, Study Of Ambient Air Quality Monitoring On Himalayan Regions Garhwal And Kumaon, Uttarakhand, India, International Journal of Applied Engineering and Technology, Vol 2,18-22.
[8] Kamath, Lokeshappa, 2014, Air Quality Indexing For Selected Areas in Bangalore City, Karnataka State, India, International Journal of Innovative Research in Science,Engineering and Technology, Vol 3(8), 15625 – 15630.
[9] Mukesh Sharma, 2003, Interpretation of air quality data using an air quality index for the city of Kanpur, India, Journal of Environmental Engineering and Science, Vol 2: 453–462.
[10] PrakashMamta, Bassin, J.K, 2010, Analysis Of Ambient Air Quality Using Air Quality Index – A Case Study, International Journal of Advanced Engineering Technology, Vol 1,106-114.
[11] Rao, M.N., Rao, H.V.N., 1989, Air Pollution, McGraw Hill Education Private Limited, Newdelhi.
[12] Srinivas, J., and Purushotham, A.V., 2013, Determination of Air Quality Index Status in Industrial areas of Visakhapatnam, India, Research Journal of Engineering Sciences, Vol. 2(6), 13-24.
We at engineeringcivil.com are thankful to Mr S.RAJ for submitting this paper to us.