The Mumbai Metro Project – Important Things You Should Know
Posted in
Civil Engineering Wonders
|

Email This Post
|

So after all the delays and hurdles, finally The Mumbai Metro project phase 1 was launched on 8th June, 2014. More than 2.5 lakh passengers traveled on the very first day of its launch.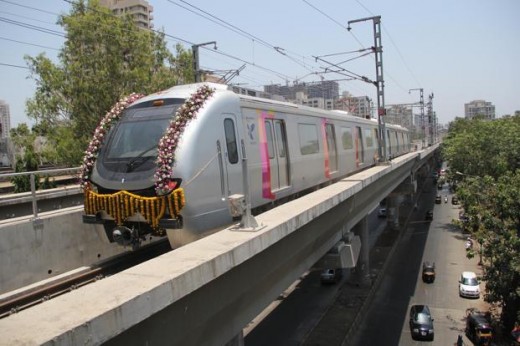 Here are some facts regarding the The Mumbai Metro Project
1) The Mumbai Metro is India's first public private partnership metro project. In this project, construction, operation and maintenance are all given to Mumbai Metro One Pvt Ltd which is a joint venture of Anil Ambani's Reliance Infrastructure, Veolia Transport and the Mumbai Metropolitan Region Development Authority.

2) S. Manmohan Singh inaugurated the first phase of the Mumbai Metro project in June 2006 and the construction began in February 2008.
3) The metro will operate everyday from 5.30 am till midnight and will cover a total of 160.9 km when its fully operational (All three phases complete). Currently in phase 1, it will cover 11.4 km Versova-Andheri-Ghatkopar stretch and is expected to ferry 15 lakh people every day.
Advertisements
4) The average speed of Mumbai Metro is 33 kmph but it has a top speed of 80 kmph. The metro is expected to cut travel time on Versova-Andheri-Ghatkopar from 90 minutes to 20 minutes.
5) The whole project is expected to be complete in 2021.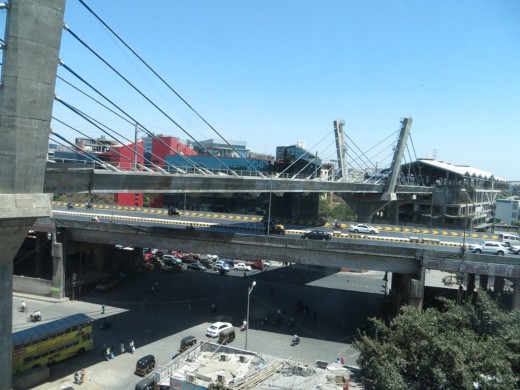 Some Technical and Environmental Aspects
1) The Track is 1,435 mm standard gauge.
2) Electrification -25 kV, 50 Hz AC through overhead catenary
3) Just like aeroplanes, each train has a black box.
4) Each train is equipped with LCD screens and 3D route maps for passengers.
5) The cable stayed bridge at Western Express Highway Andheri is situated at a height of 39 meters.
6) Water recycling plant will recycle 4 lakh litres of water every day and this will be used for washing and cleaning purposes.
7) This is India's first metro which is equipped with a real time surveillance security camera system.
8) ABB Group was awarded the contract for supplying power systems to Line 1.
9) Signaling Systems were supplied by Siemens.
Mumbai Metro Master Plan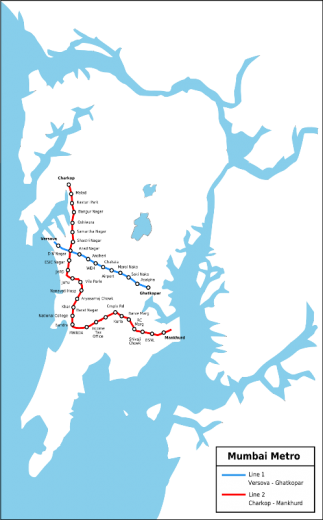 | | |
| --- | --- |
| Name of Corridor | Length (km) |
| Versova-Andheri-Ghatkopar | 11.40 |
| Charkop-Bandra-Mankhurd | 32 |
| Colaba-Bandra-SEEPZ | 33.5 |
| Charkop-Dahisar | 7.8 |
| Wadala-Ghatkopar-Teen Hath Naka (Thane)-Kasarvadavali | 30.7 |
| Wadala-Carnac Bunder | 13.5 |
| SEEPZ-Kanjurmarg | 10.5 |
| Andheri (E)–Dahisar (E) | 18 |
| Sewri-Prabhadevi | 3.50 |
|  Total | 160.90 |

Img courtesy: MMOPL