What is the difference between free earth support method and fixed earth support method?
Posted in
Soil Engineering
|

Email This Post
|

For free earth support method, the soils at the lower part of piling is incapable of inducing effective restraint so that it would not result in negative bending moments. In essence, the passive pressures in front of the sheet piles are insufficient to prevent lateral deflection and rotations at the lower end of piling. No passive resistance is developed on the backside of the piling below the line of excavation.

Advertisements
For fixed earth support method, the piling is driven deep enough so that the soil under the line of excavation provides the required restraint against deformations and rotations. In short, the lower end of piling is essentially fixed.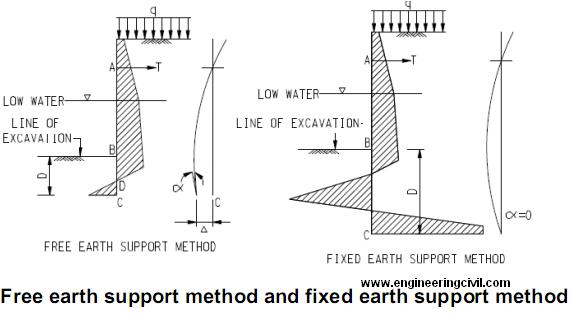 This question is taken from book named – A Self Learning Manual – Mastering Different Fields of Civil Engineering Works (VC-Q-A-Method) by Vincent T. H. CHU.