In carrying out pull-out tests for soil nails, it normally requires the loading and unloading of soil nails of several cycles up to 80% of ultimate tensile strength of soil nails. The principal function of soil nail tests is to verify the design assumptions on the bond strength between soil and grout which is likely to exceed the design values based on past experience. In addition, the ultimate bond strength between soil and grout can be determined and this information is helpful as a reference for future design.

Advertisements
Then someone may query the purpose of conducting load/unloading cycles of soil nails as it does not provide information on the above two main purposes of soil nails. In fact, loading and unloading soil nails can provide other important information on their elastic and plastic deformation behaviour. However, as stress levels in soil nails are normally low, the knowledge on elastic and plastic performance may not be of significant value. On the other hand, the creep and slippage performance of soils nails can also be obtained which may be useful for some soils.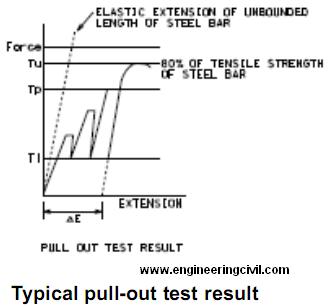 This question is taken from book named – A Self Learning Manual – Mastering Different Fields of Civil Engineering Works (VC-Q-A-Method) by Vincent T. H. CHU.