What is the function of mortar in brick walls?
Posted in
Soil Engineering
|

Email This Post
|
A typical brick wall structure normally contains the following components:
(i) a coping on top of the brick wall to protect it from weather;
(ii) a firm foundation to support the loads on the brick wall; and
(iii) a damp course near the base of the brick wall to avoid the occurrence of rising damp from the ground.

Advertisements
Bricks are bedded on mortar which serves the following purposes:
(i) bond the bricks as a single unit to help resist lateral loads;
(ii) render the brick wall weatherproof and waterproof; and
(iii) provide even beds to enhance uniform distribution of loads.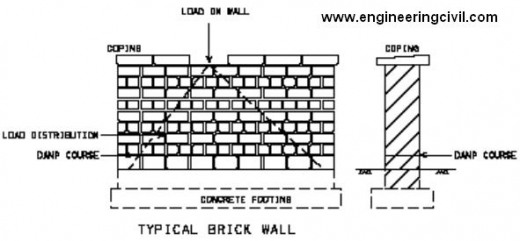 This question is taken from book named – A Self Learning Manual – Mastering Different Fields of Civil Engineering Works (VC-Q-A-Method) by Vincent T. H. CHU.