Tacoma Narrows Bridge Collapse
Posted in
Civil Engineering Disasters
,
Civil Engineering Videos
|

Email This Post
|
It was an unfortunate morning of 7th November 1940 when winds having speed of 42 miles per hour suddenly twisted the Tacoma Narrows Bridge and lead to its collapse. This accident though didn't look any lives but it surely made the civil engineers to think new ways to combat bridge collapses.
Some of the important statistics of this bridge are –
It is located in Tacoma, Washington, USA and was completed in 1940. This was a suspension type of bridge with length of 7,392 feet and was built at the cost of $6.4million.It had the longest span of 2800 feet.
The bridge was designed by engineer Moisseiff who had strengthened it with a solid steel girder beneath the roadway.But the problems started soon it was opened to traffic.Under strong winds, it swayed much beyond the permissible limits and thus sent rippling waves along the deck. It took just 4 months before this bridge collapsed after its completion.
On investigating it was found that the solid steel girders provided to strengthen the bridge were actually blocking the wind which caused the bridge to twist.Due to this a swirling motion developed which ultimately lead to the collapse. After knowing the reason for collapse a new bridge was constructed which had a truss so that it can allow the passage of wind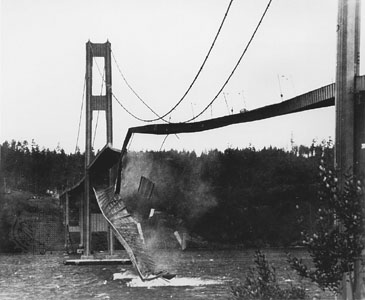 This bridge also got the name "Galloping Gertie" due to its unusual twisting and rolling behavior.

Advertisements
See this video to see how this "
Galloping Gertie
" used to sway.