What is the significance of tailwater level in culverts?
Posted in
Hydraulics
|

Email This Post
|

The headwater level and tailwater level of culverts are important parameters in hydraulic design. The headwater level cannot be set too large, otherwise flooding upstream may occur leading to the loss of life and properties. On the other hand, the tailwater level of culverts has to comply with the following requirements:
(i) For low tailwater levels at the outlet of culverts, the small depths of flow may cause significant erosion of downstream channels.
(ii) For high tailwater levels, it may cause the culvert upstream to be flowing full or even under submerged condition. As such, the headwater level is increased in order to flow through the culvert and this in turnincreases the flooding risk associated with high headwater level.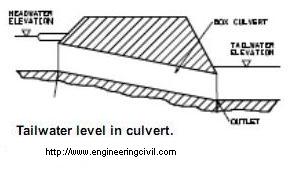 Advertisements
This question is taken from book named – A Self Learning Manual – Mastering Different Fields of Civil Engineering Works (VC-Q-A-Method) by Vincent T. H. CHU.