What are the functions of different layers in the trench of flexible pipes?
Posted in
Hydraulics
|

Email This Post
|

A typical pipe trench for flexible pipes is divided into the following layers:
(i) Final backfill
This region has little influence on the performance of pipes. However, as it is close to existing road surface, it highly affects functioning of roads and structures.
(ii) Initial backfill
This zone provides some assistance in supporting pipe loads. It mainly serves to prevent the flexible pipe from damage upon placement of final backfill. It is beneficial to increase the depth of this region.
(iii) Haunching
This zone provides the resistance to pipe deflection and support pipe loads.

Advertisements
(iv) Bedding
This zone is commonly made up of compacted fill materials. It serves to provide even support for pipe laying and to maintain the pipe with correct line and level.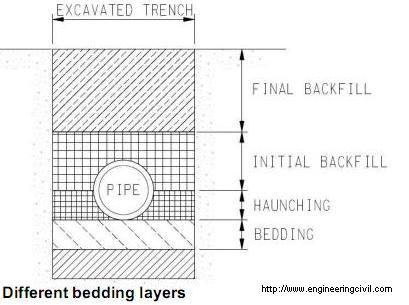 This question is taken from book named – A Self Learning Manual – Mastering Different Fields of Civil Engineering Works (VC-Q-A-Method) by Vincent T. H. CHU.