TTUS 2013
Posted in
Civil Engineering Events
|

Email This Post
|

China International Trenchless Technology Exhibit Scheduled in May 2013
While construction projects are brimming in China, trenchless technology R&D lags in terms of investments compared to machinery and pipeline installation projects. In relation, the 3rd China International Trenchless Technology and Tunnel Exhibition, as the part of China Municipal Equipment Expo, is scheduled in May 2013 at the Import and Export Fair Pazhou Complex in Guangzhou. Sponsored by the Guangdong Society of Trenchless Technology, it will be a chance for the local trenchless industry to exchange ideas and experiences with their international counterparts.

China's trenchless industry has been growing in leaps and bounds.
This can be seen with the establishment of local firms which center on this industry or the flow of investments on trenchless construction activities.
In the previous year alone, over 2,000 trenchless industry-related corporations were founded. Furthermore, directional boring (horizontal directional drilling machines, HDD) machinery skyrocketed to 8,663 while the combined length of pipes installed or fixed with the technique reached 212.63 kilometers.

Advertisements
However, there is a worrisome trend on where the HDD investments lie. According to reports, more than 90 percent go to the manufacture of machines, tools, and other related trenchless materials and on construction projects themselves. Less than 10 percent is spent on research and development, quality control, and product and/or process certification. There is too much focus on manufacturing and construction to the detriment of R&D.
This presents a problem to the local industry. For, in order to have it developed, R&D should be given equal emphasis alongside machinery production and construction.
As a response, the government has come up with a number of policies designed to aid firms in conducting trenchless R&D. Also a positive sign are some major players taking it on themselves to advance trenchless technological know-how.
For example, Chtc Jove Heavy Industry Corporation was able to produce directional boring machines which are comparable to popular foreign products. The machines use power-driven and all-hydraulic technologies with boring tools equipped with the latest utilities.
Another company, Yuchai Group, was able to produce directional boring machines which make use of the latest technologies including electro-hydraulic and PLC control. Its YCT20 and YCT40 makes are technically superior to other local brands.
Finally, Sany Group recently manufactured FDZ600, a directional boring tool which industry analysts say marks a key improvement in the local industry's R&D on trenchless technology.
It is thus clear that the government and the industry are willing to push the barriers of trenchless technology. The former has set-up guiding policies which the latter can make use of to enhance and improve the technology.
To advance this thrust on trenchless technology R&D, an international exhibit is being organized next year. Initiated and fully backed by the Guangdong Society of Trenchless Technology, the China International Trenchless Technology &Tunnel and Underground Space Equipment Exhibition 2013 (TTUS 2013) will be held in May 2013 at the Import and Export Fair Pazhou Complex.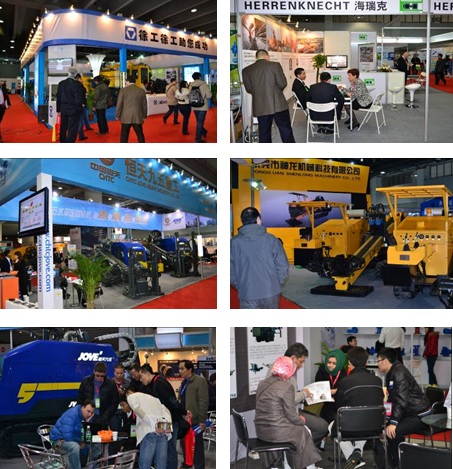 Here, industry leaders, engineers, scientists, and researchers, can exchange ideas on technological innovation as well as setting up standards in the industry. This will forward the continued improvement of a sector of the construction industry which is becoming more and more relevant in the country and the whole world.

Advertisements
Contact Person: Vicky Cai
Tel: +86 2028967766
Fax: +86 2082579220
E-mail: marketing2@grandeurhk.com
Web:
http://www.china-mete.com/sd/