China International Construction Machinery Exhibition 2012
Posted in
Civil Engineering Events
|

Email This Post
|

The machinery equipment necessary for comprehensive mechanical construction projects required by earthwork construction projects, road construction and maintenance, mobile crane loading and unloading operations and various construction projects is referred to as construction machinery. In recent years, China has become one of the countries with the fastest economic growth rate in the world. China's economic growth greatly depends on the promotion of fixed assets investment and the 12th Five-Year Plan indicates that China will continue to increase the investment in urban construction of infrastructural facilities. Thus, the engineering machinery industry will meet a new opportunity in China.

Advertisements
However, CME 2012 is a world class exhibition in construction machinery to meet the China Government 12th Five-Year Plan for increasing investment in urban construction of infrastructural facilities and promote the brand value and the integration of resources in engineering machinery industry comprehensively.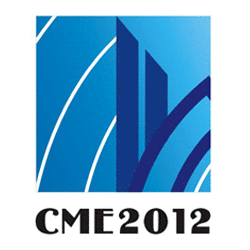 Under the sponsor of China Municipal Engineering Association, this exhibition get support from Ministry of Housing and Urban-Rural Development of the People's Republic of China and all branch of Municipal Engineering Association in China. Here, we extend a warm welcome to the participants from world traders and professionals to gather in Guangzhou.

Advertisements
Contact us:
Room 2303-2305,The 4th Tower, Dong Jun Plaza, No.836 of Dong Feng Dong Road, Yuexiu Distric, Guangzhou, China
Contact Person:
Vicky Cai
Tel: +86 2028967766
Fax: +86 2082579220
E-mail:marketing2@grandeurhk.com