Packer test is used in unlined drillholes in rock to test the permeability. In single packer test, the hole is drilled to the bottom of first test section and the top of the test section is sealed off by a packer. Water is then delivered to the test section and it is kept at constant pressure and the flow is measured.
In highly fractured rock there is a high chance that water tends to leak around the packer which gives inaccurate result. As such, multiple packers are adopted instead in which three sections of the drillhole are sealed up and water is pumped to them at equal pressure. This eliminates the tendency for water to flow around the packers from the middle section.

Advertisements
Hence, a more accurate result could be obtained by measuring flow from the middle section alone.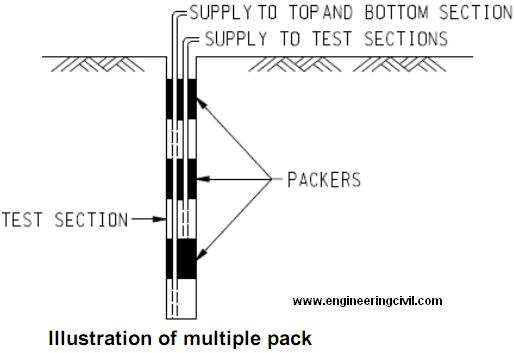 This question is taken from book named – A Self Learning Manual – Mastering Different Fields of Civil Engineering Works (VC-Q-A-Method) by Vincent T. H. CHU.