In the design of elastomeric bearings, why are steel plates inserted inside the bearings?
Posted in
Bridge Engineering
|

Email This Post
|

For elastomeric bearing to function as a soft spring, the bearing should be allowed for bulging laterally and the compression stiffness can be increased by limiting the amount of lateral bulging. To increase the compression stiffness of elastomeric bearings, metal plates are inserted.
After the addition of steel plates, the freedom to bulge is restricted and the deflection is reduced when compared with bearings without any steel plates under the same load. Tensile stresses are induced in these steel plates during their action in limiting the bulging of the elastomer. This in turn would limit the thickness of the steel plates.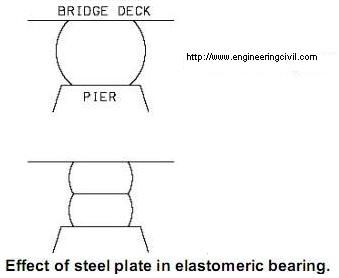 However, the presence of metal plates does not affect the shear stiffness of the elastomeric bearings.

Advertisements
This question is taken from book named – A Self Learning Manual – Mastering Different Fields of Civil Engineering Works (VC-Q-A-Method) by Vincent T. H. CHU.