Dubai's Pentominium To Be World's Tallest Residential Tower
Posted in
Civil Engineering Wonders
|

Email This Post
|

Dubai – The Astonishing Place For Civil Engineers
To amaze the engineering fraternity, Dubai is back with a project which would test the engineering limits. As per some news, Trident International Holdings have given a project to Arabian Construction Company to build world"s tallest residential tower the "Pentominium" in Dubai Marina.
The estimated cost of this project is staggering  400 million dollars and the builders believe that once this will finish, Dubai would again prove his superiority in civil engineering field. Professionals all over the world are really looking forward for this project as it would change the way people think about residential buildings.
Salient features of Pentominium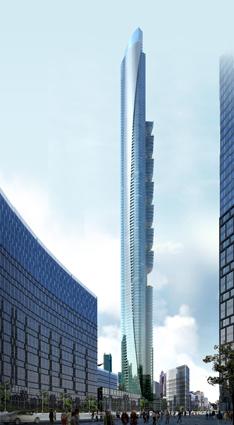 1. It would be second tallest building[124 floor] in world after Burj Dubai.
2. The height of this building would be 618 metres.
3. The total built-up area will be 170,000 square metres.
4. Construction duration is expected to take 48 months.
5. The Pentominium will be the tallest all-residential building.
6. It is designed by architects Aedas.
7. Each living space will have its own foyer and smart biometric access control.
8. Every apartment will consist of either a half or a whole floor (more than 600 m²)
Advertisements
If the builders are to be believed, then these would be the most luxurious apartments in the world having 24*7 butler service, option to use high end luxury vehicles on rent, sailing trips on Yachts and all the accessories you can think of too have a king size life. The top floors will have private theater, cigar lounge, sky lounge, business center, sky pool, health clubs, squash courts and a banqueting hall.