Burj Dubai – The New Level Of Civil Engineering
Posted in
Civil Engineering Wonders
|

Email This Post
|

On 4th Jan 2010, the biggest civil engineering marvel was inaugurated with a spectacular display of water, sound, light, and fireworks.
The biggest marvel which has amazed one and all has been in minds of not only civil engineers but also in the minds of common people. The world's tallest building is being unveiled in the middle of the a huge financial crises but this has not marred the spirit of Dubai.
The inauguration show consisted of a pre-show and three themed acts – From the Desert Flower to Burj Dubai, Heart Beat, and From Dubai '&' the UAE to the World.
People of Dubai can watch this much awaited inauguration ceremony from the Waterfront Promenade close to The Dubai Mall.
As per Ahmad Al Matrooshi, Managing Director, UAE, Emaar Properties,
"Just as Burj Dubai leaves an indelible impression on the mind's eye, so the performance dedicated to the tower's inauguration on January 4 will be a memory to cherish."
Burj Dubai is the tallest man-made structure with a staggering height of 824.55 m (2,705 ft). This ambitious project began on 21 September 2004 and is now opened exactly on schedule.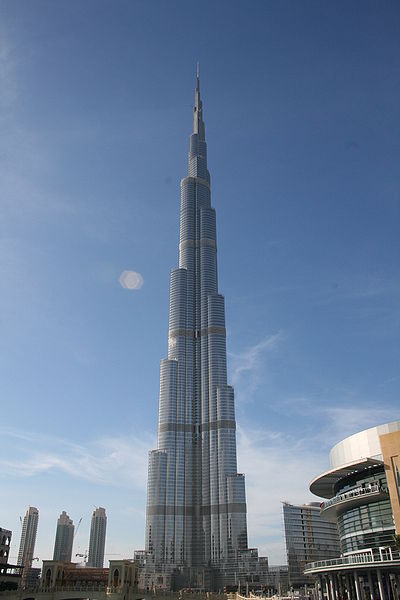 Here is the chronological overview of the project
In January 2004 the excavation of the area is started and piling work commenced in February 2004. The construction work was given to Emaar contractors in September 2004
Advertisements
The real structure began to rise in March 2005 and after 15months in June 2006 50th level is reached. Then came 2007 when all the records began to shatter as in February 2007, it surpassed The Sears Tower as the building with the most floors.Then on 13 May 2007 it sets a record for vertical concrete pumping on any building at 452 m (1,483 ft), shadowing the current record of Taipei 101 at 449.2 m (1,474 ft). Then on 21 July 2007, it minnowed Taipei 101 and reached level 141. Then till the year end, Burj Dubai had surpassed Sears Tower antenna and CN tower and reached 150 level.
In 2008, it became the the tallest man-made structure at level 160. On 1 September 2008 its height tops 688 m (2,257 ft), making it the tallest man-made structure ever built, surpassing the previous record-holder, the Warsaw Radio Mast in Konstantynów, Poland.
In 2009, it reached a breath taking height of 818 m (2,684 ft) and in Oct Emaar announced that it has completed the exterior and it will be opened in Jan 2010.
Watch the opening ceremony of Burj Dubai