Advanced Metering Infrastructure Masterclass 2019
Posted in
Civil Engineering Events
|

Email This Post
|

Advanced Metering Infrastructure Masterclass 2019
18 to 21 February 2019
Singapore
Masterclass FOCUSED on Case Studies, Real Life Scenarios, Lessons Learned on Advanced Metering Infrastructure!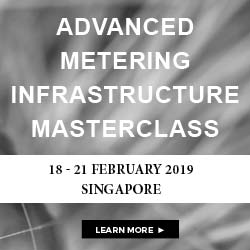 This Practical and Project Exercise Driven AMI 4-day masterclass program will introduce in a hands-on manner the essential knowledge and best practices on AMI infrastructure design, planning and roll out. The course will focus in building a sound business case around the AMI implementation whilst ensuring there is return on investment.
Key Benefits of Attending:
1. Develop an effective AMI Business Strategy and Business Case for your utility's unique circumstances
2. Cost Benefit Analysis – Determining and Analysing the Economical Benefits and Returns on Investment for your AMI deployment
3. Gain System Design, Deployment and Integration Best Practices for your AMI Implementation
4. Quality Assurance & Performance Enhancement – Ensuring you know how you can develop and implement processes/strategies that leverage the full value of your utility's underlying infrastructure
5. Improve Project & Program Management Plans for your AMI installation and integration
Advertisements
And Many More!
For more information, please visit our website or email us at enquiry@equip-global.com now!
Details
Start: 18 February 2019
End: 21 February 2019
Website: http://www.equip-global.com/advanced-metering-infrastructure-2019
Organizer: Equip Global Pte Ltd
Advertisements