2nd Procurement & Contract Management of Infrastructure Projects Summit 2018
Posted in
Civil Engineering Events
|

Email This Post
|
EQUIP GLOBAL'S Procurement & Contract Management of Infrastructure Projects Summit 2018 Return to Singapore in July!
Budget overruns, schedule delays, poor quality, lower customer satisfaction, contract and procurement fraud, procurement risk, supplier-related issues and change in contract management. These are the biggest challenges still commonly faced by procurement & contract managers in the infrastructure industry.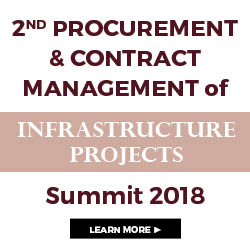 This annual summit has been tailored to bring high-profile decision makers from infrastructure project developers/owners and governments and ministries around the world to provide unique insights on how can you managing spend creep and ensuring cost containment, finding the right means to ensure compliance to contracts, developing effective sourcing strategies, tactics in reducing procurement risk, and secrets of successful supplier relationship management.
Advertisements
In addition, this summit aims to explore and discuss case studies and practical strategies around the biggest procurement & contract management challenges faced by procurement & contracts leaders of key infrastructure projects around the world!
For more information, please visit our website or email us at enquiry@equip-global.com now!
Details
Start: 24 July 2018
End: 27July 2018
Website:http://www.equip-global.com/procurement-and-contracts-management-for-infrastructure-projects-2018
Organizer: Equip Global Pte Ltd
Advertisements