What are the head details of H-piles under compression and subject to bending moment?
Posted in
Piles Engineering
|

Email This Post
|

For steel sections referred to in BS5950, universal bearing pile is characterized by having equal flange and web thickness while universal column has different flange and web thickness. Universal columns can also be used as bearing piles.

In the design of the head details of H-piles, there are three typical cases to be considered, namely compression piles, tension piles and piles with bending moment at the head in addition to tension or compression. The design of these piles recommended by G. M. Cornfield (1968) is listed below:
(i) Compression piles
For this type of piles, H-piles should be embedded 150mm in concrete pile caps and it is not necessary to use any dowels and capping plates in their connection.

Advertisements
(ii) Tension piles
A number of hook-ended bars are welded to the top of H-piles.
(iii) Piles with bending moment at their head (tension or compression)
The depth of embedment of piles into pile caps is substantially increased and loads are transferred by horizontal bars welded to piles' flanges.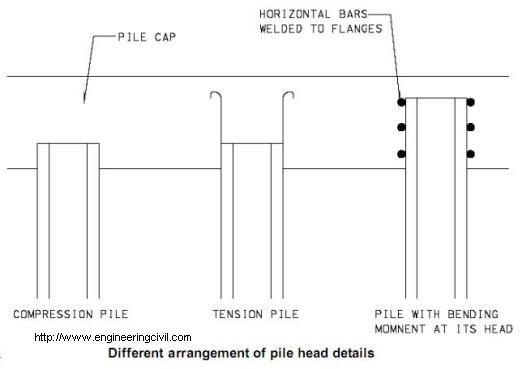 This question is taken from book named – A Self Learning Manual – Mastering Different Fields of Civil Engineering Works (VC-Q-A-Method) by Vincent T. H. CHU.