How should the piles be arranged in a pile cap to reduce bending moment induced in piles?
Posted in
Piles Engineering
|

Email This Post
|

Consider that piles are designed to intersect at a single common point in a pile cap. The resultant reactions would pass through the point of intersection in the pile cap. This type of arrangement does not involve any bending moment induced if the horizontal loads pass through this point. However, in real life situation, the piling system is expected to resist a combination of vertical loads, horizontal loads and bending moment.
To counteract bending moment, the pile cap about the point of intersection is rotated so that significant amount of bending moment is induced in piles and pure axial forces in piles can hardly generate a counteracting moment based on one single intersection point.

Advertisements
However, if the piles are arranged in such a way that there are at least two separated points of intersection in the pile cap, the amount of flexural stresses induced in piles is significantly reduced.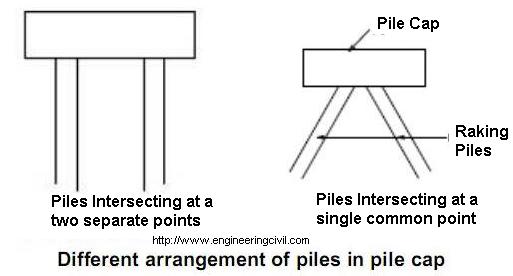 This question is taken from book named – A Self Learning Manual – Mastering Different Fields of Civil Engineering Works (VC-Q-A-Method) by Vincent T. H. CHU.