Modern Day Construction Equipment
Posted in
Construction Equipments
|

Email This Post
|

INTRODUCTION
Construction equipment have evolved as per changing requirements in the industry. Earlier for one job many equipment were required but now one equipment can do multiple jobs. Appropriate use of equipment contributes to completion of project on time, work speed, quality, and most importantly economy. It is not always possible for the contractor undergoing construction works to own each and every type of construction equipment required for the project due to complexity of project, shortage of skilled or efficient manpower, project involving handling of large quantity of earth materials, coping up with the time schedules, etc. However, one can purchase or hire the equipment as per suitability. If the equipment has to be used frequently and for a long duration of time then it proves to be economical to purchase the equipment. On the contrary, if the equipment has to be used occasionally and for a short duration of time, it proves to be economical to get it hired.
CLASSIFICATION OF EQUIPMENTS
Various equipment involved in construction works are-
1. Excavating Equipment
i) Power Shovel
ii) Hoe
iii) Dragline
2. Hauling Equipment
3. Earth-moving Equipment
4. Hoisting Equipment
a) Mobile Cranes
b) Tower Cranes
c) Crawler Mounted Cranes
d) Passenger Hoist
e) Builders Hoist
2. Dredging Equipment
3. Conveying Equipment
4. Compacting Equipment
5. Pumping Equipment
6. Pile Driving Equipment
7. Material Testing Equipment
8. Drilling Equipment
9. Aggregate, concrete and HMA (Hot Mix Asphalt) production Equipment.
Excavating Equipment-These equipment are commonly used for digging, excavating and placing earth materials to a distant place, to remove snow, lifting pipes, grading the ground, etc. It consists of a long bucket arm attached to a cabin where the operator operates and can rotate by 3600 This is a large piece of equipment which is used for big jobs and it runs on tracks. It can also be used with different attachments, such as a clamshell attachment to pick up dirt and debris.
Power Shovel– It is a bucket-equipped machine, usually electrically powered, used for digging, loading fragmented rock or earth and for extract ion of minerals. Main parts includes the track system, cables, rack, stick, boom foot-pin, saddle block, boom, boom point sheaves, bucket and cabin.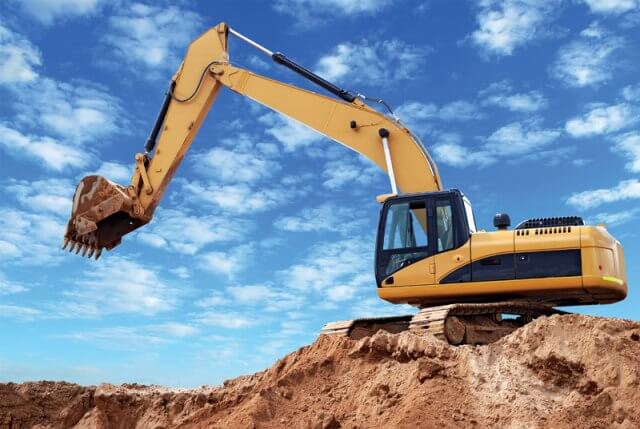 Fig 1: Power Shovel
COURTESY: BRITANNICA
Hoe– It is also known as back shovel or pull shovel. It is used to excavate beneath the natural surface on which it rests. It is used for works like excavating trenches, digging pitsforbasements, and it is also used forgradingworkswhich needs precision in case of controlofdepths. Here the basic parts include boom, jackboom, boomfootdrum, boomsheave, sticksheave, bucket, bucketsheave and stick.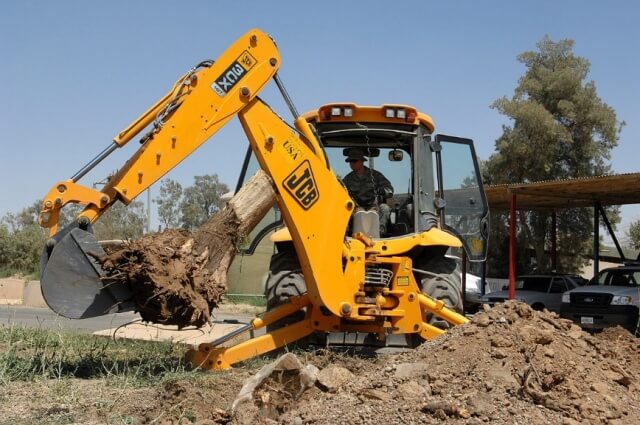 Fig 2: Hoe
COURTESY: WIKIPEDIA
Dragline– It is so named as its prominent operation involves dragging the bucket against the material to be dug. It consists of long light crane boom where the bucket is loosely attached to the boom through cables. They are useful for digging below its track level and effective while handling softer materials. Here the basic parts include boom, hoist cable, drag cable, hoist chain, bucket and drag chain. It has long reaches and also used for excavating canals and then depositing on embankments without use of hauling units.

Fig 3: Dragline
COURTESY: WIKIPEDIA
Hauling Equipment– The equipment used for transporting material are known as hauling equipment or haulers. They may be operated on railways or roadways which involve operations like carriage and disposal of earth materials, haulage of big construction equipment and transportation of building materials. It is also classified as dump trucks and dumpers.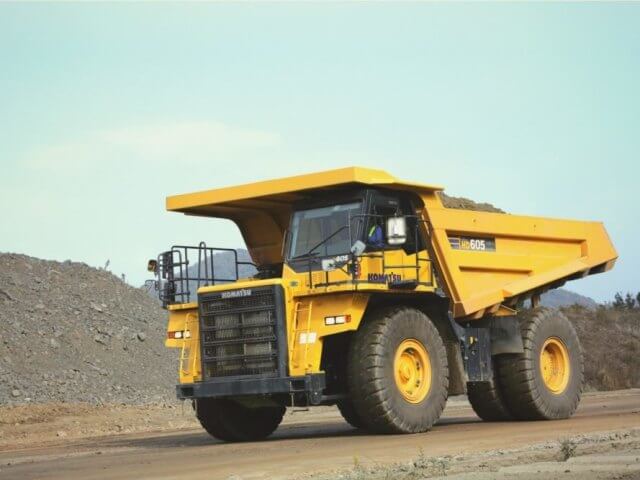 Fig 4: Dump Truck
COURTESY: INHABITAT
Earth Moving Equipment-These equipment include excavators, loaders, motor graders, trenchers, backhoes and bulldozers. They are used to shift large amounts of dig foundations,landscape areas and dirt.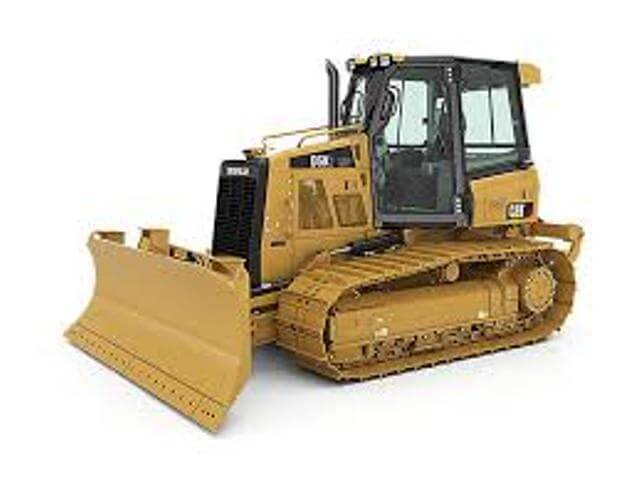 Fig 5: Bulldozer
COURTESY: CAT
Hoisting Equipment– Hoisting refers to the lifting of a weight from one location to another location at a reasonabledistance. These include jacks, winches, cranes and chain hoists.Crane is the only single piece machine capable of providing three-dimensional movement of a weight.
Mobile Cranes– Such type of cranes is mounted on mobile units which is either of wheel type or crawler type. Truck cranes are such having high mobility whereas the crawler mounted cranes move quite slowly. Crawler mounted cranes can move on rough terrain.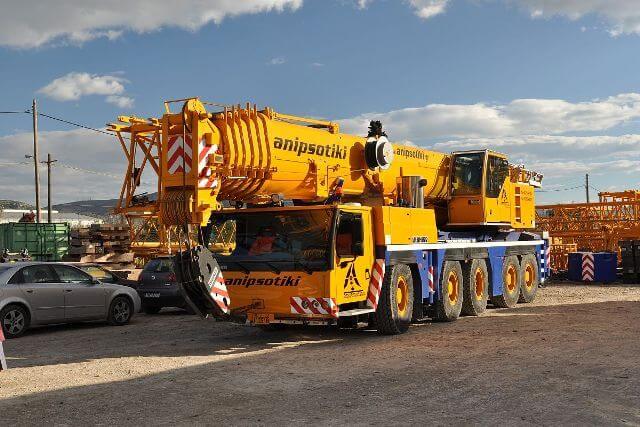 Fig 6: Mobile Crane
COURTESY: WIKIPEDIA
Tower Cranes– These cranes are derrick crane mounted on a steel tower. They are used for industrial and high-rise residential buildings especially for assembly of industrial plants consisting of steel structures. Such cranes resemble truss structures which are made by welding of steel bars and channel sections. Basic parts include carriage, slewing platform, jibs and tower with operator's cabin.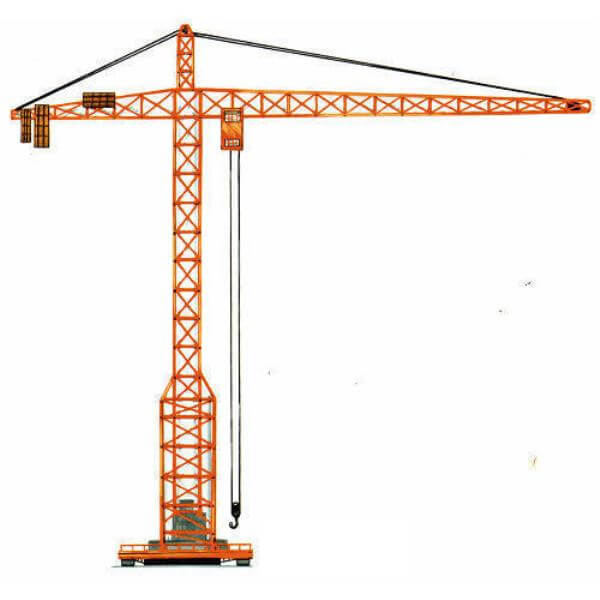 Fig 7: Hydrotek Engineers Tower Crane
COURTESY: INDIAMART
Crawler Mounted Cranes– These are the cranes which are placed on a set of rugged tracks that provides movement and stability for carrying heavy crane equipment. These crawler cranes are suitable for the rough surface area.Even though these cranes have no outriggers, they can operate lifts with minimal setup.Also, in addition to that they can move around easily. Crawler cranes can move around even with a heavy load.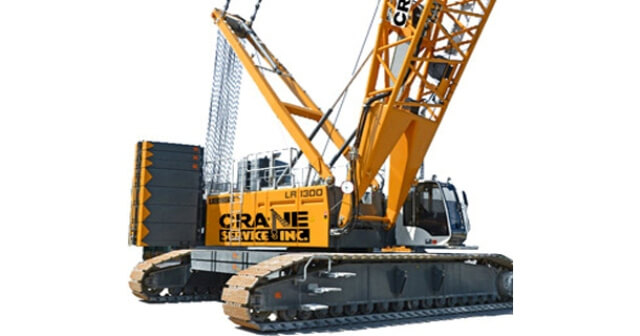 Fig 8: Crawler Mounted Crane
COURTESY: DURGA CRANE SERVICES
Passenger Hoist– It is a lifting system very often used at construction sites to lift materials to upper levels of unfinished buildings. Basic part consists of a cage in which people stand during transport, and there is a track that is mounted to the building. The cage travels along this track by means of a pinion drive system and rack, and the car can be stopped at many locations along the track. This allows to load or unload at any floor along the length of the track.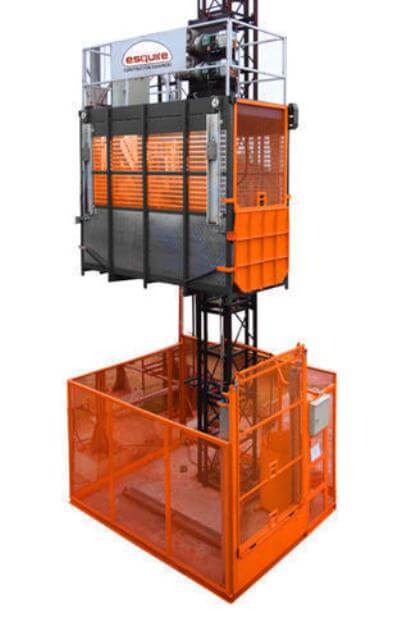 Fig 9: G.S. Enterprises Passenger Hoist
COURTESY: INDIAMART
Builders Hoist– These are available in various different configurations, sizes and budgets to suit different applications starting from small domestic gin wheel or wire rope hoists and professional scaffold hoists to gantry hoists as well as rack and pinion hoists for material transportation up the side of a high-rise building.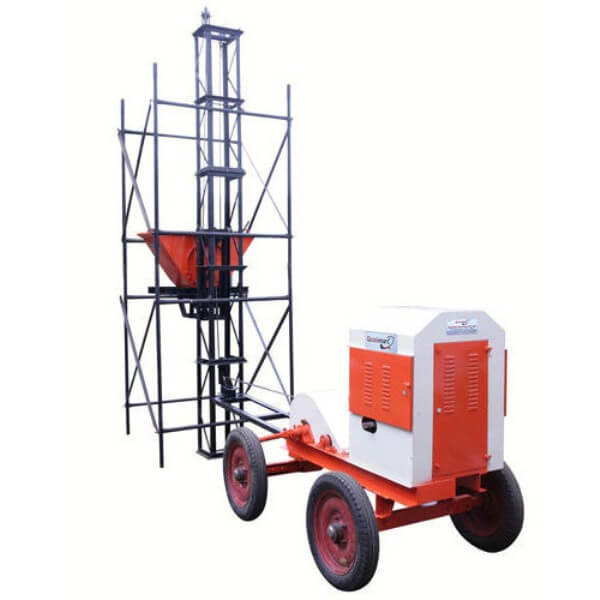 Fig 10: Austuel Builders Hoist
COURTESY: INDIAMART
Dredging Equipment– The choice of the dredging equipment for executing a dredging operation depends on conditions such as the weather, accessibility to the site and wave conditions, anchoring conditions, required accuracy and many more. They can dig hydraulically or mechanically. Hydraulic digging involves using of working of a water flow which is erosive in nature. It is mostly done in cohesionless soils such as silt, sand and gravel. Whereas mechanical digging by teeth or cutting edges of dredging equipment or knives is applicable to cohesive soils.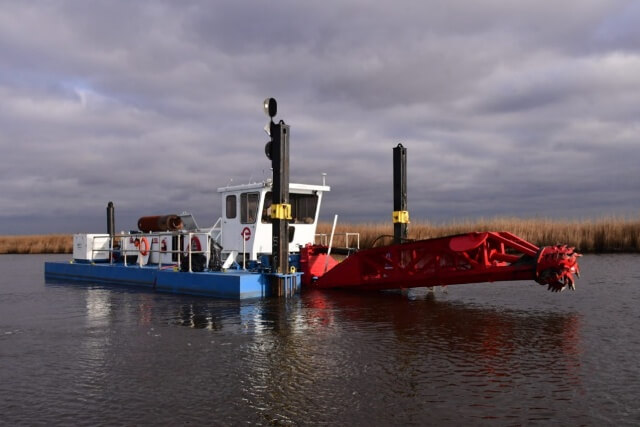 Fig 11: Dredging Equipment
COURTESY: DREDGE AMERICA
Conveying Equipment– Such equipment carry material in continuous stream with its distinct feature such as endless belt or chain. They are used for transporting material from one place to another over a structure which is stationary. They can proceed work horizontally, vertically or in inclined position. They are used in mining and construction industries.

Fig 12: NAICS 333922 Conveyor and conveying equipment
COURTESY: SIC CODES
Compacting Equipment– They can be of type such as smooth-wheel rollers, sheep-foot rollers and pneumatic type rollers. Such equipmentare used to expel air from a soil mass so as to achieve a high density. Smooth-wheel rollers are suitable for gravels and sand. Pneumatic-tired rollers are suitable for clays with reasonably high moisture content.And sheepsfoot rollers are the suitable for clays with low moisture content.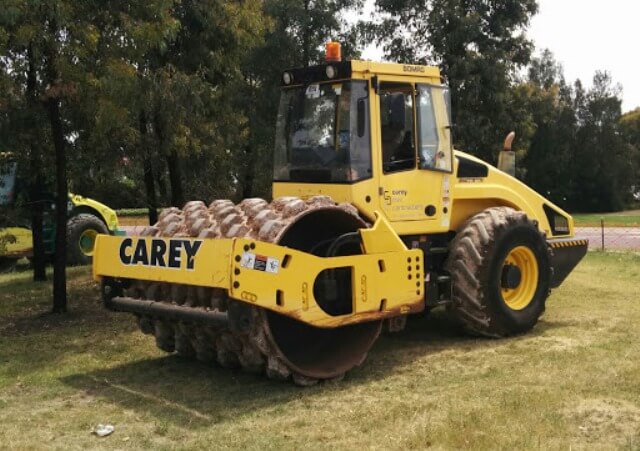 Fig 13: Sheeps foot roller
COURTESY: LGAM KNOWLEDGE BASE
Pumping Equipment– Pumping equipment are used to remove water from a volume of liquid, solid material or soil. Pumps remove liquid from a volume of liquid. They can be used for keeping water out of foundations, pits, tunnels, and other excavations and many more.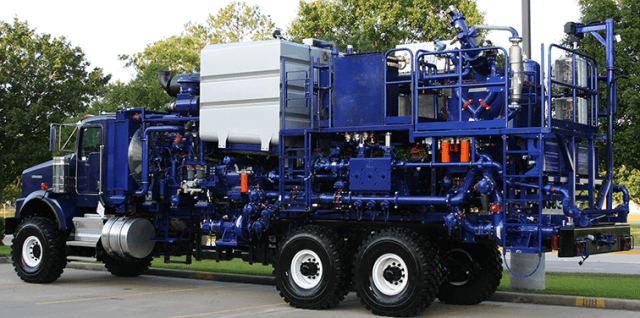 Fig 14: Pumping Equipment
COURTESY: STEWART & STEVENSON
Pile Driving Equipment– Such equipment units involve lifting the piles from ground while taking in position to a specified depth. Here driving is accomplished by hammer on pile top. Equipment are so designed so as to remain economic while driving. Major pile driving equipment includes pile driving rigs and pile driving hammers.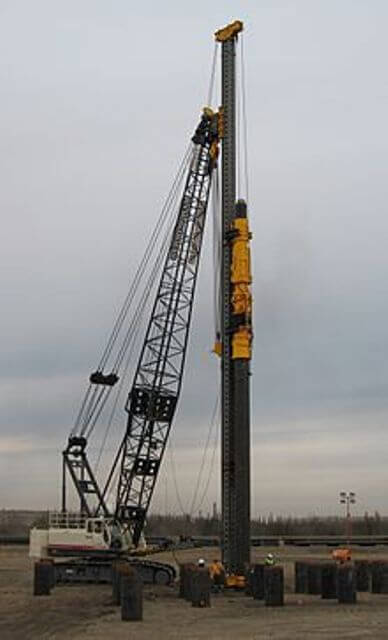 Fig 15: Pile Driver
COURTESY: WIKIPEDIA
Material Testing Equipment– It is frequently used in the quality control processes which are related with the analysis of soil, concrete, asphalt, bitumen, cement, mortar, steel, aggregates, and other materials used in construction. The mechanism in which the equipment performs analysis varies according to the material to be analysed.These testing instruments are capable of analysing the hardness, moisture content, permeability and other mechanical properties.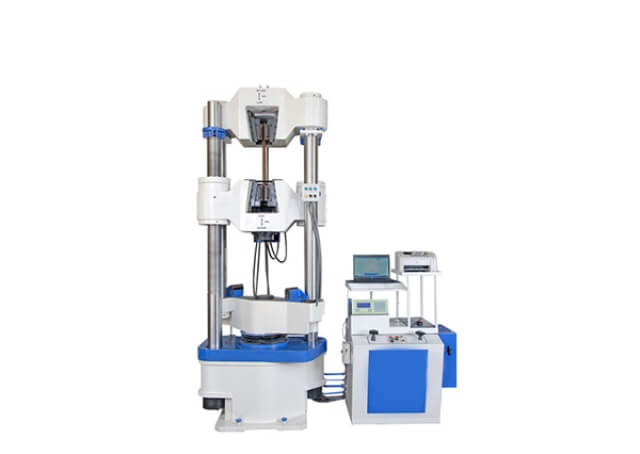 Fig 16: Material Testing Equipment
COURTESY: SUN LAB TEK EQUIPMENTS
HMA Production Equipment– HMA is produced in a plant that takes into account the proportions, blends, heats aggregate and asphalt to produce an HMA. These are of two basic types.i.e. the batch plant, and the drum plant. Batch plants leads to production of HMA in individual batches while drum plants leads to production of HMA in a continuous operation.

Fig 17: Asphalt mixing, HMA Equipment
COURTESY: DAGANG
COMPANIES IN PRODUCTION
Top companies that produce such construction industry-based equipment are-
Caterpillar (USA)
Podemcrane
Optimas GmbH
Komatsu (Japan)
Volvo Construction Equipment (Sweden)
Hitachi Construction Equipment (Japan)
Fiori Group (Italy)
Liebherr (Germany)
Sany (China)
Zoomlion (China)
Terex (USA)
Doosan Infracore (South Korea)
John Deere (USA)
Çeksan
BOMAG
CONCLUSION
Apart from these there are several other types in construction industry which are directly or indirectly involved in such construction works. Hence with the development of construction industry, equipment are getting new makeovers in the process. More competitions are going on in the market for best supplier which in turn are generating more sophisticated equipment for better selection process. Ultimately it is up to the owner for selecting the suitable equipment to carry out the necessary work.
REFERENCES
Crane and Machinery, "Modern Construction Equipments"- https://www.gruasyaparejos.com/en/heavy-equipment/modern-construction-equipments/
Wikipedia, "Power shovel"- https://en.wikipedia.org/wiki/Power_shovel#:~:text=A%20power%20shovel%20(also%20stripping,rock%20and%20for%20mineral%20extraction.
Slideshare, "Advanced Construction and Equipment"- https://www.slideshare.net/KiranGoswami4/excavating-equipment
Mikula Contracting, "Excavation Equipment: Why It's Important To Have The Right Tools"- https://mikulainc.com/blog/excavation-equipment-right-tools/
Viatechnik, "Modern Construction Machines and How They're Used"- https://www.viatechnik.com/modern-construction-machines-theyre-used/
Wikiversity, "Construction/Equipment"- https://en.wikiversity.org/wiki/Construction/Equipment
Durga Crane Services, "Crawler Mounted Crane Services In Hyderabad"- http://durgacraneservices.com/crawler-mounted-crane-services-in-hyderabad
WiseGEEK, "What Is a Passenger Hoist?"- https://www.wisegeek.com/what-is-a-passenger-hoist.htm
LES Lifting Equipment Store, "BUILDERS HOISTS"- https://www.liftingequipmentstore.com/categories/site-lifting—handling/builders-hoists#:~:text=Builders%20hoists%20are%20a%20site,for%20material%20and%20personnel%20transportation
Vlasblom, "Introduction to Dredging Equipment"- https://dredging.org/documents/ceda/downloads/vlasblom1-introduction-to-dredging-equipment.pdf
Mindat, "Definition of compaction equipment"- https://www.mindat.org/glossary/compaction_equipment
Designing Buildings, "Pumps and dewatering equipment"- https://www.designingbuildings.co.uk/wiki/Pumps_and_dewatering_equipment#:~:text=Pumps%20and%20dewatering%20equipment%20are,such%20as%20soil%20or%20sludge.&text=Supplying%20water%20for%20jetting%2C%20sluicing%20and%20other%20general%20purposes.
AZO Materials, "CIVIL ENGINEERING MATERIALS TESTING EQUIPMENT"- https://www.azom.com/materials-equipment.aspx?cat=116#:~:text=Civil%20engineering%20testing%20equipment%20is,materials%20used%20in%20civil%20engineering.
Pavement Interactive, "HMA Manufacturing"- https://pavementinteractive.org/reference-desk/construction/production/manufacturing/
Construction Review Online, "Top world's construction equipment manufacturers"- https://constructionreviewonline.com/2017/04/topconstruction-equipment-manufacturers/