Is reinforcement needed in precast concrete manhole units?
Posted in
Hydraulics
|

Email This Post
|

Precast concrete manholes are normally constructed by placing the bases of manholes firstly. The walls of precast manholes are formed by placing the precast concrete rings one on top of the other up to the required height.
Someone may notice that reinforcement used for resisting the lateral earth pressure and surface loads are not considered in some design. It is discussed in Concrete Pipe Association of Great Britain that analysis of soil pressures shows that standard unreinforced precast units are capable of resisting uniformly distributed pressures (e.g. loading condition in a manhole) down to a depth of 150m. If very severe road traffic and side loads are encountered, an additional concrete surround of about 150mm may be provided.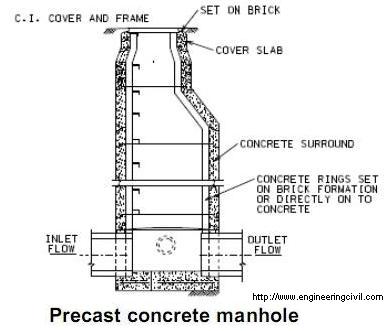 This question is taken from book named – A Self Learning Manual – Mastering Different Fields of Civil Engineering Works (VC-Q-A-Method) by Vincent T. H. CHU.

Advertisements