EngineeringCivil.com Awarded Best Online Publication Award by CIDC
Posted in
Famous Civil Engineers
|

Email This Post
|
In a glittering ceremony held on 7th March 2013 at Stein Auditorium, India Habitat Center, New Delhi, www.engineeringcivil.com was awarded as the best online publication by Construction Industry Development Council of India (CIDC).
The 5th CIDC Vishwakarma Awards were presented by Dr. Pronab Sen, Chairman, National Statistical commission & Former Principal Adviser, Planning Commission, Government of India. Many other prominent personalities from the field of construction and civil engineering also graced the occasion.
Engineeringcivil.com is specially thankful to Sir Kaushal Kishore for his continuous encouragement and motivation. The award was jointly received by Sir Kaushal Kishore and Kanwarjot Singh on behalf of www.engineeringcivil.com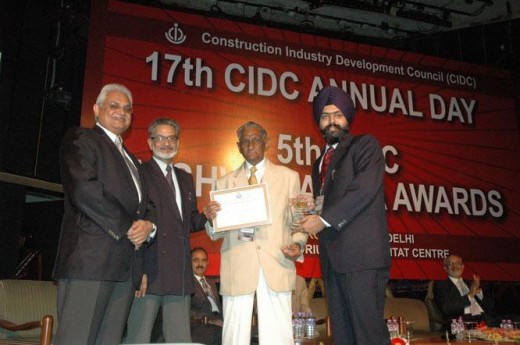 About CIDC Vishwakarma Awards
The CIDC Vishwakarma awards are inspired by the spirit of construction and creation patronized by Lord Vishwakarma the ruling deity of the Construction practices in India. At the Annual CIDC Vishwakarma Awards, the work and achievements of individuals and organizations is recognized and applauded. The awards are an embodiment of encouraging truly successful efforts from individuals and organizations that have made a mark on the present Indian Construction Industry in terms of delivering better outputs, processes and creating higher benchmarks for construction industry to help in nation building.

Advertisements