Amazing China – Civil Engineering Wonders Part – 2
Posted in
Civil Engineering Wonders
|

Email This Post
|

1) Linked Hybrid, Beijing
Linked Hybrid, which will house 2,500 people in 700 apartments covering 1.6 million square feet, is a model for large-scale sustainable residential architecture. The site will feature one of the world's largest geothermal cooling and heating systems, which will stabilize the temperature within the complex of eight buildings, all linked at the 20th floor by a "ring" of service establishments, like cafés and dry cleaners. A set of dual pipes pumps water from 100 meters below ground, circulating the liquid between the buildings' concrete floors.
The result: The water-circulation system serves as a giant radiator in the winter and cooling system in the summer. It has no boilers to supply heat, no electric air conditioners to supply cool. The apartments also feature gray-water recycling — a process that's just starting to catch on in Beijing in much smaller buildings — to filter waste water from kitchen sinks and wash basins back into toilets.
2) Dongtan Eco City, Dongtan
Developed by the Shanghai Industrial investment Corp., Dongtan Eco City , roughly the size of Manhattan , will be the world's first fully sustainable cosmopolis when completed in 2040. Like Manhattan , it's situated on an island — the third-largest in China . Located on the Yangtze River, Dongtan is within close proximity of the bustle of Shanghai .
Advertisements
By the time the Shanghai Expo trade fair opens in 2010, the city's first phase should be completed, and 50,000 residents will call Dongtan home-sweet-sustainable-home. The goals to be accomplished in the next five years: systems for water purification, waste management, and renewable energy. An infrastructure of roads will connect the former agricultural land with Shanghai .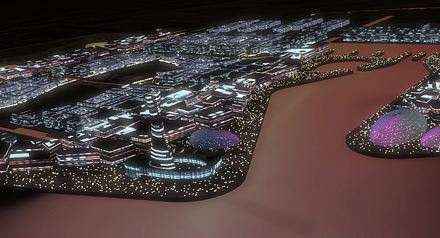 3) Olympic Stadium, Beijing
Sports stadiums have long followed the enduring design of one of the original wonders of the world, Rome 's Coliseum. Herzog & de Meuron's National Stadium in Beijing is an attempt to rethink the classic sports-arena layout for more ecologically correct times.
The Swiss architects (of Tate Modern fame) wanted to provide natural ventilation for the 91,000-seat structure — perhaps the largest "eco-friendly" sports stadium designed to date. To achieve this, they set out to create a building that could function without a strictly enclosed shell, yet also provide constant shelter for the audience and athletes alike.
To solve these design problems, they looked to nature for inspiration. The stadium's outer grid resembles a bird's nest constructed of delicately placed branches and twigs. Each discrete space within the facility, from restrooms to restaurants, is constructed as an independent unit within the outer lattice — making it possible to encase the entire complex with an open grid that allows for natural air circulation. The architects also incorporated a layer of translucent membrane to fill any gaps in the lacy exterior.
image � Herzog and de Meuron
4) Donghai Bridge , Shanghai/Yangshan Island
A key phase in the development of the world's largest deep-sea port was completed when China 's first cross-sea bridge — the 20-mile, six-lane Donghai Bridge — was officially opened in December, 2005. Stretching across the East China Sea , the graceful cable-stay structure connects Shanghai to Yangshan Island, set to become China 's first free-trade port (and the world's largest container port) upon its completion in 2010.
To provide a safer driving route in the typhoons and high waves known to hit the region, Donghai Bridge is designed in an S-shape. The structure, reported by Shanghai Daily to have cost $1.2 billion, will hold its title of China's — and one of the world's — longest over-sea bridge for only a couple of years, though. In 2008, the nearby 22-mile Hangzhou Bay Transoceanic Bridge, which also begins (or ends, depending on your journey) in Shanghai , will earn the superlative.
Photo: Getty Images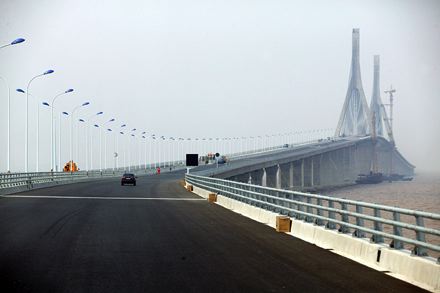 5) National Grand Theater, Beijing
Located near Tiananmen Square , the 490,485-square-foot glass-and-titanium National Grand Theater, scheduled to open in 2008, seems to float above a man-made lake. Intended to stand out amid the Chinese capital's bustling streets and ancient buildings, the structure has garnered criticism among Bejing's citizens for clashing with classic landmarks like the Monument to the People's Heroes (dedicated to revolutionary martyrs), the vast home of the National People's Congress, or Tiananmen Gate itself (the Gate of Heavenly Peace).

Advertisements
French architect Paul Andreu is no stranger to controversy — or to innovative forms. A generation ago, in 1974, his untraditional design for Terminal 1 of Paris 's Charles de Gaulle airport was criticized for its unusual curves, yet Andreu's groundbreaking, futuristic building later was seen to distinguish de Gaulle from more generic European and international air hubs. (The same airport's Terminal 2E, also designed by Andreu, gained attention in 2004 when it collapsed, tragically killing four people.)
Beijing 's daring National Grand Theater is as much a spectacle as the productions that will be staged inside in the 2,416-seat opera house, the 2,017-seat concert hall, and the 1,040-seat theater. At night, the semi-transparent skin will give passersby a glimpse at the performance inside one of three auditoriums, a feature that highlights the building's public nature.