By
Sourav Dutta
Manager-Civil
What is Foundation?
Any structure can be divided into 2 parts:
1. Superstructure: Part of structure above Ground level (GL)
2. Substructure/ Foundation: Part of structure below GL
Components of foundation:
Typically there are 3 components of foundation: (i) Footing, (ii) Column, (iii) Tie beam (refer to picture below)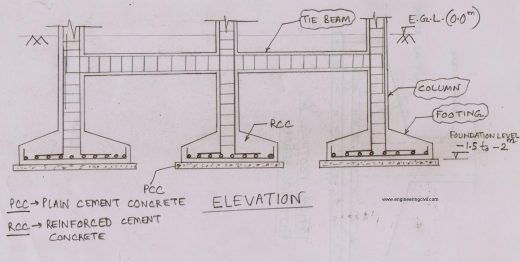 What is a footing?
Footing is that part of substructure that ultimately transfers the load (dead/live/wind/seismic) to the supporting soil in such a way that the safe load bearing capacity of soil is not exceeded (refer to table 1 for estimation of the safe load bearing capacity of the soil). Footing is a structure constructed in brick work masonry or RCC (refer to figure 1) under the base of a wall or RCC column for distributing the load over a large area.