PMMHF 2018
Posted in
Civil Engineering Events
|

Email This Post
|

2018 China Prefab House, Modular Building, Mobile House & Space Fair (PMMHF 2018)
Having been first held in 2010, China Prefab House, Modular Building, Mobile House & Space Fair(PMMHF) is nowone of the leading international prefabricated building fair in China. And PMMHF2018comes back with high expectations.
The 8th China Prefab House, Modular Building, Mobile House & Space Fair(PMMHF2018)
Date: May 15th-17th, 2018
Venue: Guangzhou Poly World Trade Expo Center
Highlights of PMMHF2017
Covered the exhibition area of 10,000 square meters with about 550 booths, PMMHF2017 attracted more than 100 exhibitors including Vertex CAD/PDM systems Pty Ltd, Nova Deco Modular Housing,BNBM House Co.,Ltd,HUADIAN Heavy Industries Co.,Ltd and so on. Various of prefabricated building homes, containers, steel structure, building design software solutions and so on were displayed on PMMHF2017.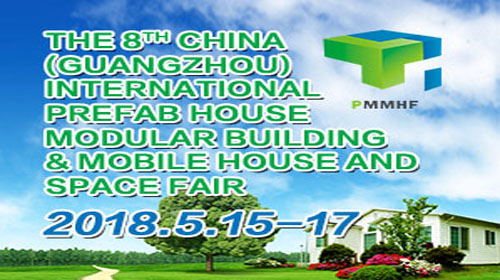 In addition,Matchmaking Meetingprovided a highly efficient platform for the oversea buyers and premium domestic suppliers to have face to face communication,which greatly improved the odds of successful cooperation.
50 enterprise representatives were engaged in delightful discussion. Oversea buyers included Architectural Innovators, Works of Art Pty Ltd, Live Life Communities, Cube Development Solutions, Hodsonville Land Company, etc, while quality suppliers encompassed Jidong, Laigang, Heguang, BRD, Zhongmei, and so forth.
Exhibitor Testimonials
PMMHF2017 welcomed a record number visitors again and the great exhibition feedback won the staunch supports of exhibitors, just as JuhoSuomalainen,Managing Director at Vertex CAD/PDM Systems Pty Ltd, said:
Hi Trista,Thank you very much for your help and excellent arrangements before and during the PMMHF Exhibition.You make it easy for us to do all arrangements before the show and it was good to see that all went as agreed.Show was really good for us and looks like it's getting better and better year by year. This was my fifth time at PMMHF.This year there were also more international visitors which is always a good sign how well know the exhibition is globally.You can be sure that Vertex will be there also next year, 2018.
Thanks to the smashing hit made in last edition, PMMHF2018 by now has gained supports from every corner of the world, including leading associations: Asian Construction Technology Alliance, The Civil Engineering and Arcmetectural Society of Guangdong, China Council for the promotion of International Trade Cooperation&Integrated Building Committee.
We confidently believe PMMHF2018 will continue to lead the China's prefabricated building industry. For more information and free registration, please contact Ms.Trista Chan.
Advertisements
Contact Information
PMMHF Organizing Committee
Person: Ms.Trista Chan
Phone: +86 18218982900
E-mail: grand.zh@grahw.com,2897615498@qq.com
Website: http://www.pmmhf.com/index.php?lang=en