China Steel Build 2018
Posted in
Civil Engineering Events
|

Email This Post
|
China(Guangzhou) International Exhibition for Steel Construction & Mental Building Materials(China Steel Build 2018)
China(Guangzhou) International Exhibition for Steel Construction & Mental Building Materials(China Steel Build 2018) will be held in Guangzhou Poly World Trade Expo Center from May 15 to 17, 2018 and we are sincerely waiting for your attendance.
Great supports from authoritative associations
Nowadays, With China governments' great supports, building industrialization plays an important part in the construction field. Steel structure as an essential elements for prefabrication is a hot land for development.
China Steel Build 2018 has joined hands with a lot of high-profile associations to further promote the steel structure industry, including Housing and Urban-Rural Development Ministry of Housing Industrialization Promotion Center, Technology Strategic Alliance of Green prefabricated Farmhouse Industry, China Integrated Building Committee of Construction Industry Sub-Council and Guangdong Provincial Society of Steel Constrution etc.
Products we focus on
Expected to cover 10,000 sq.m, China Steel Build 2018 will exhibit a rich variety of products like Roll forming system machine, Cold-formed steel system machine, Light Gauge Steel Framing, CAD Structure Design, Steel framing machine/technology, Fasteners, Three kinds of wall boards series of steel structure etc.
Renowned Companies all gather here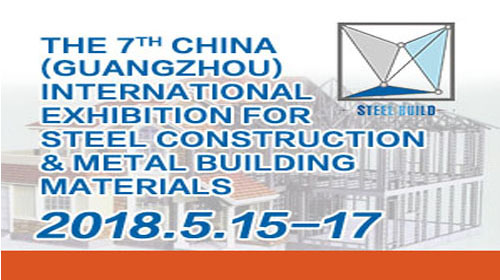 As a unique show designed to bring together the leading voices of the steel construction industry, China Steel Build is highly focused by industry insiders. Apart from the renowned companies comprising FrameMac CO.,LTD.,BNBM HOUSE, Huizhou FY Steel Structure Co.,Ltd.,XIAMEN ZHENG LIMING METALLURGICAL MACHINERY CO.,LTD, we also have overseas exhibitors like Howick Ltd, Pinnacle Building Technology FZE,Vertex CAD/PDM etc all showcase their specific products in every edition. Most of them have reserved booths in China Steel Build 2018.
More chances to meet with the industry insiders
Advertisements
China Steel Build 2018 is a sub-theme exhibition of CIHIE2018(The 10th China Guangzhou Int'l Integrated Housing Industry Expo), which consists of China Prefab House Fair, ROOF CHINA, ROOFTILE CHINA, Wooden House & Structure Fair. Backed by agglomeration effect, China Steel Build2018 has the access to meet with much more insiders. More importantly, this is an all-to-one trade platform that covers a wide range of industry chain products.
If you want to be an exhibitor to show your newest products and explore Chinese market, do not hesitate to join us! Pls contact me asap, and I will give you a best price and preferable booth.
If you are interested to be a visitor, pls register with me to get a free entrance ticket for the 3-day show:
Best regards,
Ms Trista Chan
Contact us
China Steel Build 2018 Organizing Committee
Ms. Trista Chan
Phone: +86 20 28945347,+86 182 1898 2900
Fax: +86 20 82579220
E-mail: 2897615498@qq.com, grand.wa@grahw.com
Website: http://www.steelbuildexpo.com/index.php?lang=en