Asia Pacific Rail 2017
Posted in
Civil Engineering Events
|

Email This Post
|

21-22 March 2017 | HKCEC, Hong Kong
About Asia Pacific Rail
The most exclusive and influential railway gathering in the region, Asia Pacific Rail attracts over 1,500 attendees from Asia and across theglobe each year.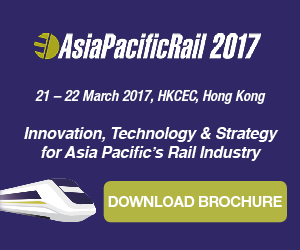 Now in its 19th year, Asia Pacific Rail 2017will have more content than ever before,with 4 premium conference tracks, 3 seminar theatres and our new Underground University spanned across 2 days. Our premium conference tracks will feature excitinginnovations in metro, high-speed rail, mainline passenger and freight,all focused on the theme enhancing operational excellence andpassenger experience to improve your bottom line.
Advertisements
Confirmed speakers include: Lincoln Leong, CEO, MTR Corporation, Desmond Kuek, President & Group CEO, SMRT Corporation,Azmi Abdul Aziz, President & Group CEO, Prasarana Malaysia Berhad, Kuldeep Gharatya, Head of Technical Strategy, Systems Performance, Innovation, London Underground
Whether you're a railoperator, authority or a solutionprovider to the global rail industry, you need to join us as we laythe foundations for Asia's rail future.
Download brochure for more information
Engineering Civil Discount Code: – TGCM