What is the purpose of pedestals?
Posted in
Steelworks
|

Email This Post
|

When structural steelworks are connected to the foundation, pedestals are normally designed to carry loads from metal columns through the ground surface to the footings which are located below the ground surface. With the installation of pedestals, it is the pedestals, instead of metals, which come into contact with soils.
The purpose of the provision of pedestals is to avoid the direct contact of metal columns with soils which may cause possible metal corrosion by soils. The soils around the pedestals should be properly compacted to provide sufficient lateral resistance to prevent buckling of pedestals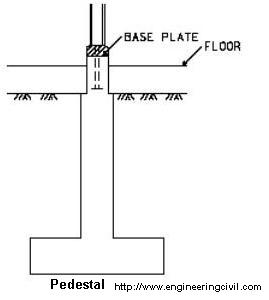 This question is taken from book named – A Self Learning Manual – Mastering Different Fields of Civil Engineering Works (VC-Q-A-Method) by Vincent T. H. CHU.

Advertisements