Megalith 2011
Posted in
Civil Engineering Events
|

Email This Post
|

Civil Engineering Department Of "IIT KHARAGPUR" is Organising the Second Edition of it's Technical Fest "MEGALITH" from 14th-16th Jan,2011.
It aim's to Achieve the Objective of Promoting and Encouraging innovation in Engineering among the Students and a platform to apply the Engineering they learnt and understand the technical difficulties faced in the real world which is beyond their realm of books.
The Civil Enginering Society has conceived Megalith to provide a platform for eminent persons from the corporate world and academia to Congregate and Share the Knowledge gathered over years of Experience.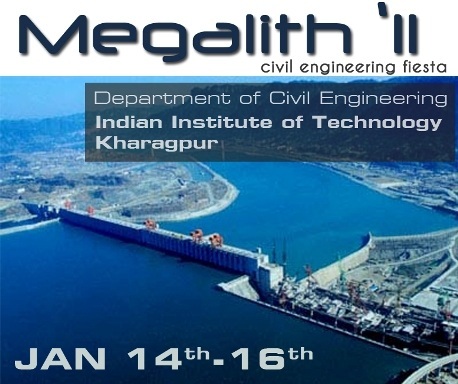 The Maiden edition of this Fest was a huge success.The events had excellent participation from various parts of the country and every event was a great success.

Advertisements
This Edition is coming up with "New Innovative Events" and "Huge Prize Money".
Following Events will be Conducted during the fest.
1. IDP
2. CANVASS
3. CIVIONICS
4. CRIAR
5. BEAT-d-EUCLID.
6. DARKODE
7. ATLANTIS
8. Presentation on Flyash
Besides these "SEMINARS & WORKSHOPS" will be held.