Aakaar 2018
Posted in
Civil Engineering Events
|

Email This Post
|

Competitions
BridgeIt: BridgeIt is the competition in which participants have to make a Trussed Arch Bridge using Popsicle sticks and Fevicol as adhesive. Designing Bridge for the hilly area is very challenging as land is too much undulated therefore designing of the bridge with footings at different levels is required for such areas. Thus we are launching the competition to make Trussed Arch Bridge with different level of footings that can sustain the greatest conceivable load without failure.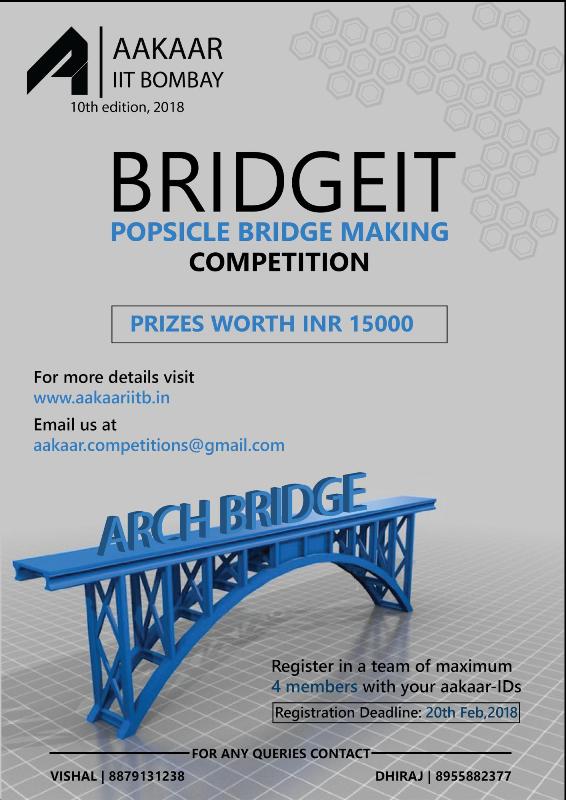 Prizes worth INR 15000 at stake.
To Register: tinyurl.com/aakaarbridgeit
For problem statement and more info: aakaariitb.in/index.php?key1=compi
Deadline: 20/02/2018
ConquerIt: conquerIt is the competitions in which participants have to make mini canoe using Expanded Polystyrene (EPS) Concrete. Expanded Polystyrene (EPS) Concrete is one of the forms of lightweight concrete. It has advantages such as increased thermal and sound insulation properties, easy shaping and ability to be formed by hand with sculpturing and construction tools.
Prizes worth INR 25000 at stake.
To Register: tinyurl.com/y7lk9akw
For problem statements and more info: aakaariitb.in/index.php?key1=compi
Deadline: 12/02/2018
Advertisements
Symposium
International Civil Engineering Symposium IIT Bombay was launched with the prime motive of encouraging research enthusiasts in the field of Civil Engineering to engage in vigorous research and take Civil Engineering to a whole new level.
If you are a research enthusiast and you feel that your research paper has got something extraordinary, Aakaar's ICES IIT Bombay is a platform to showcase your talent in front of eminent professors, industrial professionals and talented students in a formal conference.
Summary papers are invited in different civil engineering disciplines on the theme of 'Innovation in Civil Engineering and Smart Infrastructure'.
Prizes worth INR 30,000 at stake.
Register for ICES: www.tinyurl.com/aakaarsymposium
For other details, contact Symposium Managers:
Sricharan Dakka |sricharandakka1998@gmail.com | +91-9491370353
Manideep Sudia |sudiasriramsaimanideep@gmail.com|  +91-8828290541
Poster Presentation:Technical poster presentation is the presentation of research information or an idea with an academic or professional focus on a poster. For any professional, communicating his/her idea efficiently determines his success professionally. The primary motive of this competition is to enhance the ability of delivering a visual presentation without any other audio/video aids.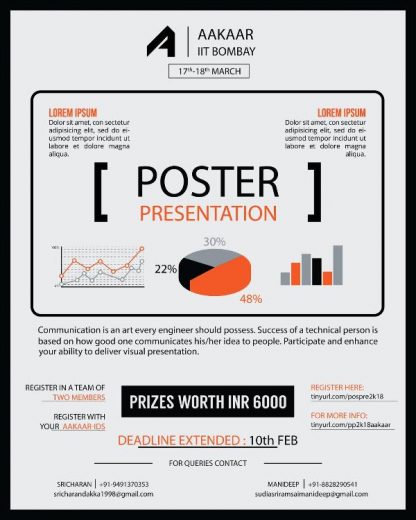 Prizes worth INR 6000 at stake.
To Register: tinyurl.com/pospre2k18
For problem statement and more info: tinyurl.com/pp2k18aakaar
Deadline: 10/02/2018
CENEx:
Civil Engineering National Exhibition, CENEx which provides a unique opportunity to all civil engineering students across India by facilitating them to showcase their research projects incorporating new technology via different models, prototypes, simulation models in front of eminent professors and professionals. CENEx is a platform which invites all students to establish a link which connects their research with the practical world. Eminent personalities from civil engineering, lecturers, and industrialists will be the part of this event.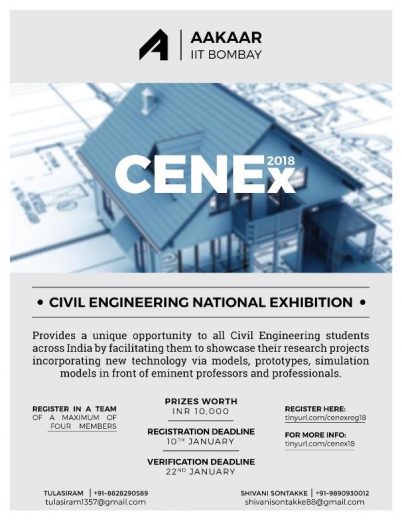 Prizes worth: INR 10,000
For more details, log onto: tinyurl.com/cenex18
Register here: tinyurl.com/cenexreg18
Registration Deadline:February 2018
Verification Deadline: February 2018
Smartpitch
This competition provides a platform to startup business model ideas for pitching to a jury of investors and industrialists. In teams of not more than 5 members, ideate your business falling in any of the 5 major sectors (details on the Smartpitch webpage):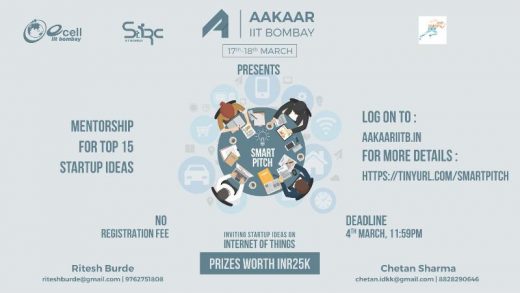 Smart Transportation
Smart Society
Smart Living
Smart Construction
Disaster Management
Registration link: goo.gl/umUs51
Deadline for registration: February 18th 2018, 11:59 PM. (No Registration Fees)
PRIZES worth INR25,000 at stake
Events
Workshop:
Aakaar aims to develop practical skills in a wide range of fields through its plethora of highly sought after workshops. With the best technical experts and interaction with students sharing common interest workshops will help you to delve deeper into subject. This year we had a pre-fest workshop on Staad Pro. During AAKAAR, workshops on ETABs and BIM(Building Information Modelling) will be conducted.
Panel Discussion:
We organised a conference to get a deeper comprehension of the issues involved in assimilation of a Future of Indian Housing and Infrastructure. Opportunities & Challenges were discussed with the following distinguished panelists on board:
1.Aparna Dhareshwar,Senior Architect,sP+a(Sameep Padora & Associates)
2.Kirtee Shah,Founder Director,Ahmedabad Study Action Group
3.Mohan V.Jatkar,Executive Technical Director,Gammon India Ltd.
4.Alpa Sheth,Managing Director,VMS Consultants Pvt Ltd.
Contact: Dhanu Velchuri(8688864247,8522013365)
Media&Publicity Manager,Aakaar IIT Bombay
Advertisements